Conversación con Roosevelt Montás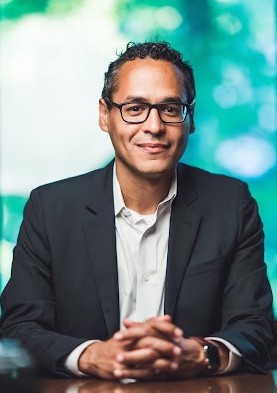 En 1991 empezó su carrera universitaria en Columbia College, estudiando literatura. Se graduó en 1995 y continuó con su educación, obteniendo un doctorado en inglés. Hoy en día, Roosevelt Montás es profesor de literatura, pero desde 2008 hasta 2018 fue además director del centro para el currículo básico en la Universidad de Columbia.
Durante la entrevista para este periódico habló sobre su vida en la República Dominicana. De niño, él no tenía ni idea de que viviría en los Estados Unidos. En su segundo año en la escuela secundaria, Montás leyó los diálogos de Platón, y con eso, su inglés mejoró y desarrolló un amor por la literatura. Según Montás, es una buena idea empezar a leer literatura clásica lo antes posible, no importa la edad.
También él habló sobre asuntos teóricos, por ejemplo, dijo que si tuviera la oportunidad de cambiar algo en el mundo, sería la pobreza. Durante sus años en la República Dominicana y Queens, Montás vio las diferencias en las clases económicas y por eso tiene esperanzas de cambiar las vidas de los desafortunados.
Algo más que mencionó fue las diferencias entre las universidades y su importancia. Hablamos sobre si es una buena idea asistir a las universidades tecnológicas, especialmente para los cursos generales, lo cual Montás considera que está bien para ahorrar dinero. No es bueno que haya un estigma con las universidades tecnológicas y los colegios comunitarios, es beneficioso tomar clases en estas universidades.
Leave a Comment
Donate to El Sol Spanish newspaper - voces Latinas del área de La Crosse, Wisconsin
Su donanción apoyará a los estudiantes periodistas en la Universidad Viterbo que escriben para esta publicación. Su contribución permitirá cubrir la subscripción anual de este sitio web, así como los estipendios para el equipo editorial.
Your donation will support the student journalists of Viterbo University writing for this publication. Your contribution will allow us to cover our annual website hosting costs as well as the stipend for the editorial board.