El idioma Español en las escuelas de La Crosse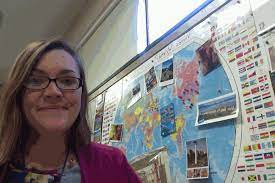 By Alex Powell
In La Crosse Wisconsin there are many options for Spanish and other world languages. The district does a great job of offering these foreign languages ​​at many different levels that are tailored to the needs of the students. Schools that offer Spanish are Northwoods Elementary, La Crosse Polytechnic, and all middle and high schools.
Northwoods Elementary has a Spanish teacher, as well as many of the teachers, who are bilingual. Before COVID-19 they had a foreign exchange, students who spoke Spanish. They offer two types of classrooms, immersion and exploration. In the immersion class, they use Spanish as their main language half the time. In the exploration class, Spanish is used most of the time, unless English is needed for something to be better understood. This school is very welcoming to students whose primary language is something other than Spanish.
At the middle school level, Spanish is offered for every class. It is required for seventh grade, but optional for eighth grade. At the high school level, there are classes with the difficulty increasing at each level. In the easiest ones, basic vocabulary and grammar are taught. At the advanced levels, the focus is on being able to use Spanish every day. Advanced grammar and vocabulary, along with understanding Spanish when used with different accents. These more advanced classes only use Spanish in the classroom.
La Crosse Polytechnic is different from other schools in the district because it is a charter school . Leah Wyland is a Spanish teacher at this school who also offers two different types of classes, depending on the needs of the student. She thinks that La Crosse does a good job of offering many world languages. She also believes that the key to success in any foreign language is sticking with it and asking for help when needed. You should also hold yourself accountable and be a self-advocate for yourself. It is very common for students to start with Spanish in middle school, but drop out when it gets difficult or when another class gets in the way.
In addition to teaching Spanish and other world languages, La Crosse schools place an emphasis on learning about the culture from which these languages ​​originate. They have a Facebook page (La Crosse Schools World Language) dedicated to showcasing what students are doing to celebrate other cultures. All schools share this page which has many photos of students enjoying the culture. On the page you can see students watching movies, eating and giving presentations about the culture you are focusing on.
If Spanish, or any world language, is something that interests students in the La Crosse School District, there are numerous options available. They are inclusive for almost all levels that a student may have. This district also strives to teach more than one language and educate them about the culture from which that language originates.
Leave a Comment